These are my

Style Chart Top 20

, although i think i might just stick to 10 next time, it took AGGGESS...haha..but i figure instead of doing highstreet & designer lowdown, this might be an easier and better way of doing it, try to use as much labels as i can, from highstreet, designer etc. I love it..i will be doing this every sunday, (hopefully) cos i know i've been really crap lately, been working soo hard and been too busy with graduate fashion week, which has given me alot of inspiration. So lots of exciting things coming....stay tuned!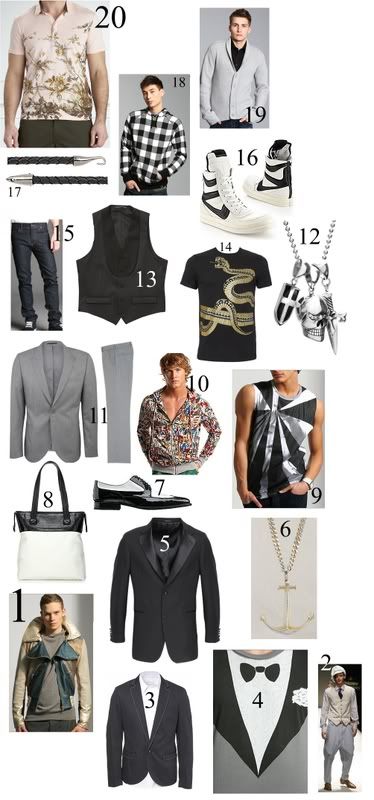 "Unconditional"

Patchwork Leather Biker Jacket

-

I love the shape, the high collar! I've featured this jacket before, but as you can see, it's the ultimate statement jacket! guaranteed to steal the show.




Vivienne Westwood

Wide Trousers

-

I've had my eyes on these wide harlequin trousers for a while now, it's quirky and creates an interesting sihoulette, i would rock it..




Navy cotton blazer with light trim @

Topman

-

Very classic and simple with a modest twist, understated style, also the colour navy can be dressed up or down. It's something i will be wearing very very often, just because it's versatile.




Bib Front print t-shirt @

Urban Outfitters

-

Quirky details are eye catching, and says alot about someone's taste, it's fun and individual.




Dinner Jacket with satin lining @

Oli.co.uk

-

Priced at £45 isn't bad to start with, at all. The satin makes it very chic and luxurious, i love it.




Maison Martin Margiela Anchor necklace @

Eluxury.com

- It's a sweet little pendant necklace, it's subtle, and not over the top. I also have a thing about anchors, so it's a winner for me.




Dior Homme

Patent shoes

-

Love these patent shoes, it's a very classic shoe, but the patent finish makes it modern. This is something that can jazz up a simple tuxedo, injecting some personality.




Rick owens

canvas and leather tote

- Love the contrast, and it looks very lush and expensive. Great shape and good for work and weekend.




Raf by Raf Simmons

graphic vest

- Something a little more fun, it's on trend and eye catching.




Alexander Mcqueen

printed hoodie

- I also love loud prints, so this printed hoodie is my retro fix, worn with hightops, really thick gold jewellery and rock it how you want.




One button silver slim fit suit @

River Island

-

Something every guy should have, i love the one button, the fit, and detail, colour is very suitable for younger guys, it's sleek and stylish, perfect for any occasion.




"Seven" Silver Dagger, Shield And Skull Necklace @

Asos.com

-

Quirky and interesting. Abit of rock n roll with a hint of attitude.




Bibbed front waistcoat @

Topman

-

Very tasteful waistcoat with the satin bib detail, adds a interesting twist to other waistcoats.




Black Tee w/ Metallic gold snake print @

Topma

n

- I love anything metallic, but this is the perfect amount, i love the snake print.




Cheap Monday

skinny indigo jeans

-

Indigo jeans can be dressed smart or down, it's the beauty of it!




Rick Owens

white high tops w/ black trim

- I want these so bad, they're extra high, so it's going to give a nod to boxing shoes but still keeping it fresh and modern.




3.1 Phillip Lim

cairo belt

- quirky details, love the unique buckle clasp and woven leather effect.




Carhartt

Hooded Mellow Tile Hoody @ Urban Outfitters




Minimum Walter

Cotton Cardigan

@ Urban

- Floral shirts are set to be a trend heating up, ted baker tastefully does subtle floral prints, that remind me of prada. It's very grown up and chic.