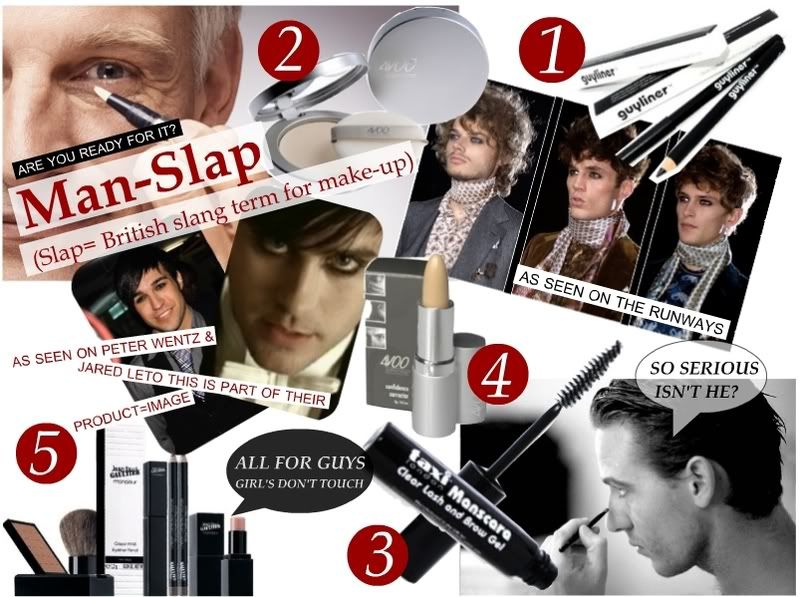 1.

Guyliner £4.50

Taxi Man -

Superdrug
To add definition and draws attention, whilst achieving that Jack Sparrow, emo (i'm in a band) look
2.

Silk-enriched shine reduction powder $39

4VOO

A translucent powder to matt & kill shine for all skin tones, natural finish too

3.

Manscara £4.50

Taxi Man - Superdrug

Clear gel to tame those unruly brows & define those eyelashes = more definition & polished

4.

Confidence Corrector $34

4VOO

Hides unwanted blemishes and covers dark circles under the eyes, available in four shades 5. Make up range for men "Monsieur"

Jean Paul Gautier

ARE YOU READY FOR IT?
Man-Slap (Slap= British slang term for make-up)
For an industry that boasts £700m, it definitely isn't something that just happens overnight. The modern man at least has a facial wash and a good moisturiser. But it doesn't have to stop there, and that's what i think contributes to the growing industry! Men's grooming regime are much more intense now, and younger guys are getting more adventurous and it's because there's so much available to us now, the key is right marketing and packaging.
Jean Paul Gaultier
is spear-heading us into the new era, with it's first men's make-up range appropriately titled, "
Monsiuer
". That gives men the tool to "
enchance
" what they've already got! The line includes facial cleanser, toner, shaving products, concealer, eyeliner, brow grooming gel, and bronzer. But it's since come along way from the designer brands, these "adventurous" products are filtering down to local stores, making it very accessible to the younger generation. UK's
Superdrug
is launching it's first men's make-up range this September, "Taxi Man" cleverly packages the eyeliner and mascara into "
Guyliner
" and "
Manscara
" to let men feel like they own it more. Priced at around £5-7, it's not bad either.
"So far, the main focus of the make-up industry has been
correction
: to make men look better but natural. But there are signs that an attempt at decoration is now emerging, and the key for cosmetics brands is to find a way through the conundrum of creating '
non-girly
' make-up for real men." -
Carl Wilkinson - The Guardian/ Observer
But why stop there, there's now a plethera of products designed to target all the problems a man has, but renamed and packaged into a non-intimidating, "i'm a man who wear's make-up" proof way. This includes, shine reduction powder, confidence corrector, contour powder, eye shader, sunburn/ blush powder - all of which are tempting me with the potential of looking better than i am now. It's worth a shot? right?
Either way, it's not a new thing if you do, just go easy on the panda eyes. haha.
Discover a whole extensive range of cosmetic/grooming products just for men:
www.4voo.com
www.superdrug.com
www.mankind.co.uk
www.studio5ive.com