Ta-da! So sorry i took my sweet time, but here it is! I scoured around for the Top 10 man bags around, now alot of bags didn't make the list, i was initially gonna do like loads, but it looked cluttered, and was getting informal, so i cut it down. So I think all guys should invest in a nice bag, and don't be cheap on this one, cos you'll thank me - It's just essential, ESSENTIAL (Scrunching up face) to have one these days, cos at the drop of a hat you might be flying off somewhere (yeah right!) or you need to stay over at a friends house, going somewhere and you need to take alotta shit! and all you hav eis the crappy JD Sports bag that they use to pack the shoes and clothes in, HAHA you know what i'm talking about, if you laughing then you prob rocked it is well, sigh, or them funky coloured adidas string bags (i had one) and it just don't work with what your wearing, and you might be looking FRESSSH, and it calls for something very sophisticated and stylish. If you have one, you'll never need another, it's an all occasion bag to put all your funky shit inside, and looks good anywhere - A "good" man bag says, he's in style, he's interesting, he's now and he is today's modern man/boy! Am i right?
Click on the image to enlarge!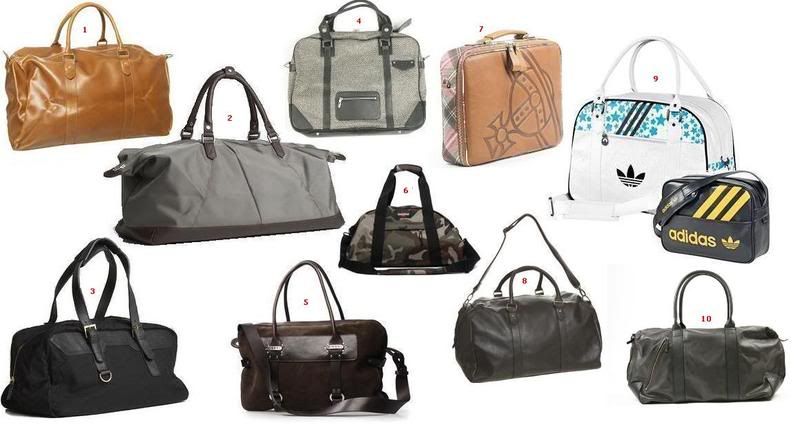 TOP 10

(Not in any particular order)

Topman £30

-

Nice colour, and perfect for S/S, price isn't a killer either, but it might look different in person?




Reiss £120

-

I like this one, however not in grey, looks too erm..luggagey?




Reiss £89

-

This one is niceee, stylish, and black, can never go wrong - also looks sporty too. (Reiss are leading on this one!)




Paul & Joee £99

-

Herringbone texture, its also nice, with the black leather detail, but nothing special.




Diesel £285

-

This one is lux, brown and rich - Very nice I definately would.




Urban Outfitters £30

-

This one is a STAR BUY, nice shape, and love the military print! Gonna buy it next week!




Vivienne Westwood £265

-

Love this one, very distinctive and recognisable, can you carry it off?




Topman £30

-

I like this one, simple and classic!




Adidas £30

(Or something close) -

Something fun and bright, adidas sometimes do really chic ones! (Store in convent garden)




Nicole Fahri £169

-

This one looks like the River Island one i have but in black, simple, classic - Perfect!