Duh, lol...
Balenciaga
wins of course, but let's get real for reals - I mean, i love them but i ain't bout to blow a months wages on a pair of shoes, thats until i get proper rich and famous, and yes i said "when" not "if" haha..sigh...wishful thinking..
anywho, remember what i was saying in the last posting about me saying
River Island
do a similar style? didn't i hook it up..i told you i would come through!
ERM, Hello? Can someone tell me what the big old
difference
is? Alls I know is, I know which one i would choose, and i speak for all those who are on a budget, including me.
I walked pass the river island store in oxford st, the big one - and it was in the windows, along with other spring goodies! i snapped it with my phone, can you tell by the ghetto styling using Windows Paint! haha you know how i do, but don't watch that im upgrading to photoshop cos ya'll deserve it.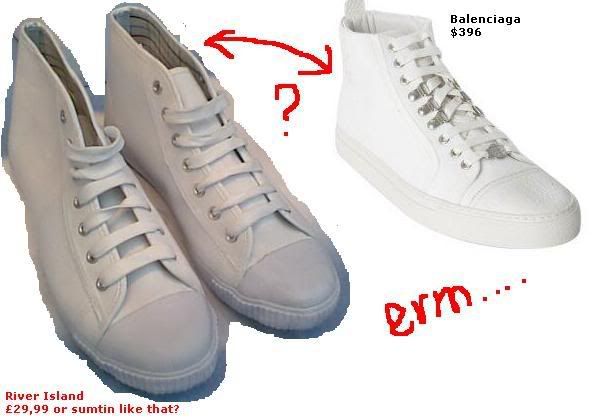 How to rock this
Love this look on the plastic man, you know you love it! It's stylish, sophis and so fresh and so clean clean..Key things: skinny belt, slim fit sizes, stay with cool colours (though i think you can inject colour or a lil flavour to add your personality)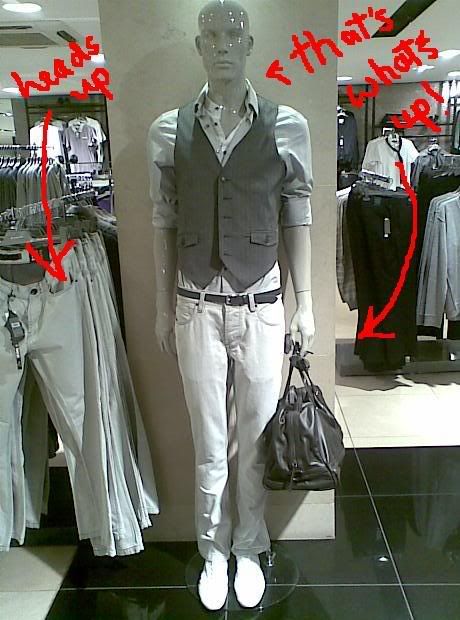 Fellas, don't be afraid of
white jeans
- eventhough i never think it's appropriate but boi, this spring it's shifting, white jeans and white shoes compliment that fresh, cool clean city slicker! Walking on air....