Blue
is the new black! there you have it! a statement! but will revert back to black just as quickly..fashion is just so fickle...but i'm more interested in the timeless appeal, and it's more navy to be exact.
Recently, I've been seeing some very well dressed guys on the train, and at a glance you just get the impression that there's something very
elegant
and classy to how this person is carrying himself. There's a air of confidence and sophistication, but very understated, nothing about him was over the top. This is a guy that knows what works for him, and it will continue to work for him for a long time, why? because it's timeless -
classic staple
pieces that just stands the test of time. This got me curious, i had to break down his outfit to really know why.
Had to look at colour first, it was the navy that held everything together; there's something about how "navy" comes alive against certain colours or differed shades of blue. It's very close to black, but it's not hard, it just neutralises and lets something else do the talking.
He wore a navy striped shirt, under a navy cardigan (a very important piece for everyman right now) with smart navy chinos coupled with a camel mac, tan brown brogue shoes. He nailed it with the accessories, a classic leather strap watch and a tan tote - exutes elegance and sophistication, maximum impact without making too much noise. A very clever outfit, takes alot of time to hone and carry off.
Here's a little example of what i mean...
Now it's your turn. All of these garments are "classic staples" and will not go out of style very easily. So i see it as an investment, and money well spent.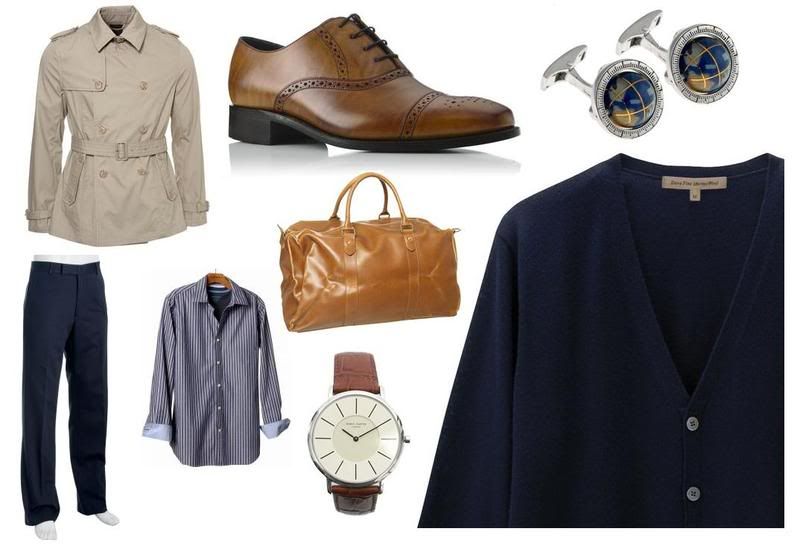 Mac

@ Topman


Shirt

@ Banana Republic


Cardigan

@ Uniqlo


Shoes

@ Kurt Geiger


Cufflinks

@ Tateossian


Bag

@ Topman


Trousers

@ Marc Jacobs (Probably find the same at GAP)


Watch

@ ASOS by Simon Carter